La Banque africaine de développement accorde un don de 40 millions d'euros pour la construction d'un pont sur le fleuve Logone entre le Cameroun et le Tchad
ABIDJAN, Côte d'Ivoire, le 7 Mai 2020,-/African Media Agency (AMA)/- Le Conseil d'administration du Groupe de la Banque africaine de développement a approuvé, jeudi 30 avril à Abidjan, l'octroi d'un don de 40 millions d'euros au Cameroun et au Tchad pour la construction, sur le fleuve Logone, d'un pont reliant les deux pays, entre les villes de Yagoua et Bongor, dans le bassin du Lac Tchad.
D'un total de 40,94 millions d'euros, une tranche de ce don, 20,785 millions d'euros est destinée au Cameroun et une autre de 19,215 millions d'euros au Tchad. Le mécanisme d'octroi a été initié par la Facilité d'investissement en Afrique dans le cadre d'un accord-cadre entre le Groupe de la Banque et la Commission européenne.
Dans un rapport soumis par l'équipe de gestion du projet au Conseil d'administration de la Banque, il est indiqué que les fonds serviront à co-financer les coûts de construction du pont entre Yagoua au Cameroun et Bongor au Tchad, des routes y donnant accès, ainsi que des études de faisabilité y ayant trait.
Une fois achevé, le pont devrait renforcer l'intégration bilatérale et sous-régionale et les échanges commerciaux transfrontaliers, offrir une protection à ceux qui traversent la rivière et à leurs biens, et raffermir les liens socioculturels entre les deux pays.
« Plus précisément, le projet vise à promouvoir les échanges entre les États, en particulier entre le Cameroun et le Tchad, à réduire le temps des déplacements et les frais de transport y afférents, et à améliorer l'accès à des services de base par les habitants des localités voisines », note le rapport.
Outre le pont sur le fleuve Logone, d'autres projets relevant de l'accord-cadre PAGODA (Convention de subvention ou de délégation pour les organisations ayant fait l'objet de l'évaluation des piliers) comprennent la réfection de la route reliant Lomé à Cotonou, le développement du réseau routier et la facilitation du transport par route le long du corridor Bamako-San Pedro entre le Mali et la Côte d'Ivoire, et la réfection du tronçon de la route communautaire CU2a reliant le Burkina Faso au Niger.
La Banque et la Commission européenne se sont engagées à cofinancer des projets de développement favorisant la lutte contre la pauvreté en investissant dans des infrastructures critiques susceptibles de promouvoir la connectivité harmonieuse entre les transports, l'énergie et les TIC.
Distribué par African Media Agency (AMA) pour la Banque Africaine de Développement.
Contact:
Kwasi Kpodo, Communication and External Relations Department, African Development Bank, email: w.kpodo@afdb.org
WaterAid scales up WASH facilities for disease prevention at Uganda/Congo border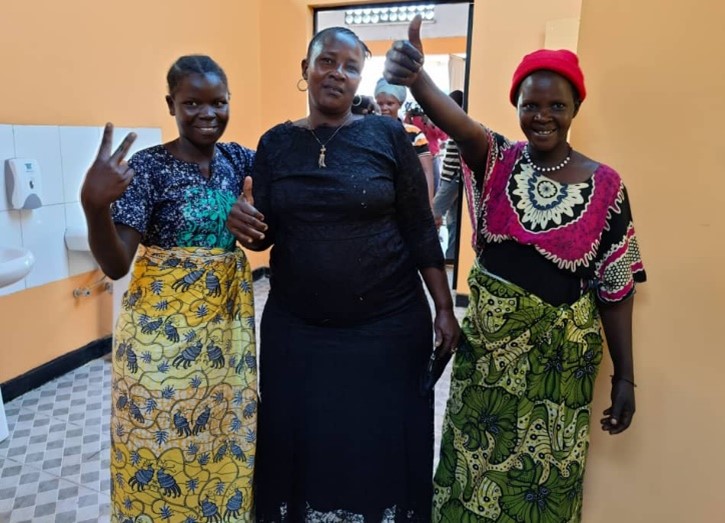 KAMPALA, Uganda, 25 November 2022 -/African Media Agency(AMA)/- WaterAid East Africa and implementing partner, Uganda Water and Sanitation Network (UWASNET), handed over a new gender-inclusive and disability-friendly sanitation block to the management of the border post and Vurra community. The sanitation block, which is being handed over few days after the commemoration of World Toilet Day, consists of four toilets each for men and women, including special suites for persons with disabilities, three urinal bowls for men, six bathrooms and a store.
Vurra border post is a key goods-clearing and immigration checkpoint for Uganda and Democratic Republic of Congo, and due to high rate of border movements and inadequate WASH facilities, the post potentially exposes people to the risk of communicable diseases. Before the COVID-19 pandemic, about 500 trucks crossed the border post daily with commuters overstretching the toilet facilities in the guest houses and restaurants.
This new intervention by WaterAid East Africa, forms part of the second phase the organisation's cross-border WASH projects, aimed at helping countries improve pandemic preparedness after the disruption by COVID-19. The first phase of the border intervention was successfully delivered in 2021.
During the first phase, WaterAid worked with UWASNET to install six contactless handwashing facilities at Vurra border. Speaking on the second phase and introduction of sanitation facilities, Regional Director for WaterAid East Africa, Olutayo Bankole-Bolawole said it was borne out of the need to have a more integrated approach in curbing the spread of communicable diseases.
"With COVID-19 and now Ebola Virus Disease, it is clear that the risk of emergence of infectious diseases has increased over the past few years, and this can be traced to high mobility of people that is witnessed at border points. After the completion of the first phase of WaterAid's response, we conducted an assessment and concluded based on impact of the first phase, to have a more holistic approach, which requires providing access to integrated WASH facilities and hygiene behaviour change trainings".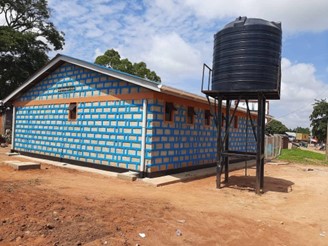 "Inadequate sanitation systems spread human waste into rivers, lakes and soil and this pollutes water resources and impacts people's health. Poor sanitation is also linked to diarrheal diseases which results in the death of about 800 children globally, every day. Ensuring that toilets are climate-resilient and connected to a proper sanitation system that effectively removes and treats human waste is key in promoting good health and protecting the environment".
Olutayo added that "Border points are very significant in boosting the economy of countries, but without these basic WASH services, it becomes very difficult for people to protect themselves and contribute to a prosperous economy. Research shows that handwashing with soap reduces diarrheal diseases by 30%, can reduce acute respiratory infections by up to 20% and it plays an important role in reducing the transmission of outbreak-related pathogens such as cholera, Ebola, shigellosis, SARS, hepatitis E, and COVID-19. Investment in WASH is worth it and we encourage governments across the region to prioritise investing more in WASH to ensure preventive measures against diseases, rather than seeking for curative measures when people's lives are in danger". 
In line with its global and regional strategy, WaterAid aims to inspire and accelerate action to tackle the global sanitation crisis and achieve Sustainable Development Goal (SDG) 6, which promises access to sanitation and water for all by 2030.
Since 2021, WaterAid East Africa has been working closely with partners, including WASH networks in Kenya, Tanzania and Uganda country programmes, to curb the spread of infectious diseases along cross-country border routes in East Africa. So far, the organisation has embarked on 9 border interventions covering six countries- Kenya, Uganda, Burundi, Rwanda, Democratic Republic of Congo and Tanzania. These include Busia border between Kenya and Uganda; Holili border between Tanzania and Kenya; Malaba border between Kenya and Uganda; Nemba border between Rwanda and Burundi; Horohoro border which serves Tanzania and Kenya; Lungalunga border serving Kenya and Tanzania; and Rusizi border between Rwanda and DRC
Yunia Musaazi, Executive Director of UWASNET appreciated WaterAid for the initiative.
"UWASNET is grateful to WaterAid for having partnered with us to contribute to the fight against pandemics in the world like COVID-19 and Ebola. We are also grateful to WaterAid for having listened to the voices of Vurra and Arua districts who called for the effective curbing of communicable WASH-related diseases by offering a full WASH package for transient communities." 
Prior to WaterAid's intervention, the poor conditions of the toilets contributed to an increase in open defecation.
"In the past, we've experienced health problems due to the poor sanitation we've had. Now we have beautiful toilets, with urinals, we can use the toilets and the bathrooms. We welcome these facilities with open arms," said Taban Joseph, the Operations Manager for Cargo Trans and a leader in the long-distance drivers community.
Distributed by African Media Agency on behalf of Water Aid.
For more information, please contact:
Bukola Bayo-Philip, Ag. Regional Communications Manager, WaterAid East Africa on bukolaphilip@wateraid.org.
For more information, please contact:
Bukola Bayo-Philip, Ag. Regional Communications Manager, WaterAid East Africa on bukolaphilip@wateraid.org.
WHO/UNICEF Joint Monitoring Programme (JMP) Progress on drinking water, sanitation and hygiene: 2017 update and SDG Baselines
WHO/UNICEF Joint Monitoring Programme (JMP) Progress on drinking water, sanitation and hygiene: 2017 update and SDG Baselines
Prüss-Ustün et al. (2014) and The Institute for Health Metrics and Evaluation (2018)
World Health organization (2012) Global costs and benefits of drinking-water supply and sanitation interventions to reach the MDG target and universal coverage
The post WaterAid scales up WASH facilities for disease prevention at Uganda/Congo border appeared first on African Media Agency.