She left the bank after 7 yrs to pursue an internationally recognized luxury hair business
Leaving an assured, constant income stream to pursue one's passion which is riddled with uncertainties can be a frightening and questioning moment in one's life.
Pursuing one's dream requires a vicious sense of tenacity, determination, and consistency to make that smooth transition from passion to a profitable business.
This vicious sense of tenacity, determination, and consistency is what made Mrs Gwyneth Gyimah Addo leave her banking job which offered her a consistent flow of monthly income to charter the course of entrepreneurship. She subsequently established a luxury brand in hair known as the Hair Senta.
About Mrs Gwyneth Gyimah Addo
Mrs Gwyneth Gyimah Addo graduated from the University of Ghana, Legon in 2006 with a BA in Philosophy. She further gained an Executive MBA from China Europe International Business School (CEIBS). She is the Chief Executive Officer of the luxury hair brand, The Hair Senta which she commenced in 2008.
She began selling 100% human hair extensions on a very small scale from the trunk of her car while working at the bank as an Associate Relationship Manager. She later resigned in 2012 to fully commit to the business as it began to witness growth.
"I used to work with Standard Chartered Bank, I did that for seven years and resigned in 2012 but before that, I had started The Hair Senta on a very small scale by selling in the bank and doing door-to-door sales," she recalled in an interview.
With exponential growth, the Hair Senta has become more than a selling point for human hair. Today, the Hair Senta offers treatment for all hair types and scalp conditions. Gwyneth currently has branches in Accra, Kumasi, a franchise in Koforidua, and wholesalers in Cape Coast, Takoradi, and Tamale. She is also represented internationally by wholesalers in the USA, UK, Liberia, Ivory Coast, Kenya, South Africa, Sweden, and Togo.
"We created a brand when we started in 2012 and here we are today. We ship to Germany, Ukraine, etc. We collect hair from all across the world. When you come to The Hair Senta, there is no human hair you cannot find. We have them all, just name it," she said in an interview.
Entrepreneurial and Business Skills
Gwyneth applied the skills and knowledge she gained from working in the bank and her educational background in entrepreneurship and innovation from the China Europe International Business School (CEIBS) into the management of her small business. This transformed her small business into an international luxury hair brand. According to Gwyneth one key growth to success is the company's excellent customer service.
"The Hair Senta competes on exceptional customer service, we compete on customer service because we know women need extra care. We do deliveries also. We have branded bikes and as soon as a client calls, we deliver", she said.
Gwyneth leveraged social media particularly Instagram to build her successful brand. Now, the Hair Senta has over 217,000 active followers on Instagram. Gwyneth has the vision of making Hair Senta the most successful hair company in the world out of Africa. One of the ways she planned to do this was by introducing the prestigious Hair Senta International Beauty Show (HIBS Africa). An annual intercultural beauty show and exhibition that seeks to project local brands in the space of Hair and Beauty all across Africa to the world.
Gwyneth also offers business coaching for existing corporates, struggling, and start-up businesses.
Her Achievements & Awards
Married with two kids, Mrs. Gwyneth Gyimah Addo has received several awards for her achievements. She was the recipient of the CEIBS Africa "Organizational Impact Award" in 2016 and the recipient of "Most Promising Female Entrepreneur" by the CEIBS Alumni in 2017. She also won the Sales and Marketing for the 40 under 40 Awards in 2019.
The post She left the bank after 7 yrs to pursue an internationally recognized luxury hair business appeared first on Ghana Talks Business.
The post She left the bank after 7 yrs to pursue an internationally recognized luxury hair business appeared first on African Media Agency.
Aleph Hospitality Enters The Democratic Republic Of The Congo 
The Kertel Suites in Kinshasa marks the company's first entry into the Democratic Republic of the Congo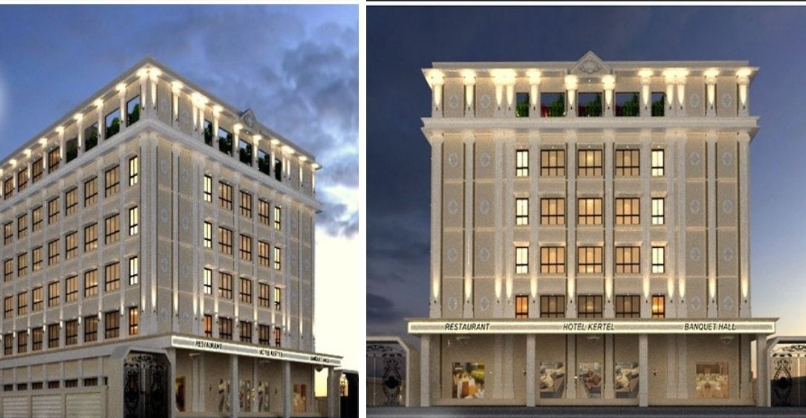 DUBAI, UAE, 15 August 2022 -/African Media Agency(AMA)/- Leading Dubai-based independent hotel management company, Aleph Hospitality, has signed a management contract with Congo-based Sokerico Group to operate Kertel Suites in Kinshasa. The boutique property, which is currently under development, is set to open in Q1 2023, and on opening the hotel will set a new benchmark for the hospitality sector in Kinshasa with its all-suites accommodations and state of the art food and beverage offerings. Aleph Hospitality's portfolio now covers 12 properties across eight countries on the African continent.
Located in the capital Kinshasa, in the heart of Gombe, a flourishing business centre and embassies area, Kertel Suites offers brand-new, contemporary accommodation. The hotel is conveniently located a 20-minute drive from the N'Dolo Airport. Popular tourist destinations in the vicinity include Picasso Beach, Central Station Square and the Jardin Zoologique.
The premium hotel is positioned as approachable luxury with an elegant, classic design for a corporate lifestyle. Leisure facilities include an upscale rooftop resto-bar and a French bakery-bistro, a roof swimming pool, fully equipped gym and spa as well as three banquet halls.
Bani Haddad, Founder and Managing Director of Aleph Hospitality said: "We are thrilled to have been entrusted with the management of Kertel Suites in Kinshasa and we are excited to be operating our first property in Africa's largest city. It's an interesting time to secure a presence in the heart of Africa, as The Democratic Republic of the Congo is currently investing in the hospitality sector, restoring historical sites and strengthening sustainability within their ecosystem. The development is quite unique in its location, and we look forward to bringing next-level hospitality experiences to the heart of Gombe."
Ritesh Hemnani and Kenny Rawtani, owners of Sokerico Group and developer of the project said: "The opening of Kertel Suites in Kinshasa will create vast job opportunities for Congolese residents to become part of Aleph's rapidly growing hospitality group. Our plan is to help accelerate an increase in tourism in the country and position Kinshasa as a destination with superb hospitality services."
Aleph Hospitality, which has targeted 50 hotels in the Middle East and Africa by 2026, manages hotels directly for owners, either on a franchise basis for branded properties or as a white label operator for independently branded hotels.  
Distributed by African Media Agency (AMA) on behalf of Aleph Hospitality .
About Aleph Hospitality
Born and based in Dubai, Aleph Hospitality is a dynamic hotel management company, working for owners to maximise the value of their assets in the Middle East and Africa. The regional specialist's customised, results-driven alternative to traditional hotel management models includes third party and white label operations.
Aleph Hospitality manages hotels directly for owners and facilitates franchising partnerships with leading global brands. With in-depth market knowledge, several decades' experience working with the world's largest hotel companies, and a company culture based on trust, responsiveness and flexibility, Aleph Hospitality delivers superior results for hotel owners, an exceptional hospitality experience for its guests and a professional environment for its workforce. Aleph has 12 operating hotels in its portfolio and has earmarked a pipeline of 50 hotels in the Middle East and Africa by 2026.
To find out more, alephhospitality.com.
Media Contact:
Anne Bleeker, Managing Director, In2 Consulting
anne@in2consulting.com
+971 56 603 0886
The post Aleph Hospitality Enters The Democratic Republic Of The Congo  appeared first on African Media Agency.