Côte d'Ivoire : plus de 3.200 réfugiés dans les pays voisins par crainte des violences post-électorales (HCR)
L'Agence des Nations Unies pour les réfugiés (HCR) a indiqué, mardi, que quelque 3.200 ressortissants de la Côte d'Ivoire ont afflué vers les pays voisins, pour fuir les violences post-électorales qui ont éclaté dans le pays.
NEW YORK, USA, le 04 Novembre 2020,-/African Media Agency (AMA)/-La Commission électorale indépendante (CNI) a annoncé mardi matin la victoire du président sortant Alassane Ouattara à l'élection présidentielle organisée samedi dernier. Le scrutin avait été boycotté par une partie de l'opposition.
« Le HCR est préoccupé par le fait que les tensions électorales et les troubles en Côte d'Ivoire ont provoqué la fuite de plusieurs milliers de personnes en tant que réfugiés vers les pays voisins », a déclaré Boris Cheshirkov, porte-parole du HCR. Ces réfugiés, « pour la plupart des femmes et des enfants » sont arrivés au Libéria, au Ghana et au Togo, depuis l'ouest et le sud-ouest de la Côte d'Ivoire, a t-il expliqué lors d'un point de presse à Genève.
Selon l'agence onusienne, de violents affrontements ont éclaté après l'élection présidentielle ivoirienne du 31 octobre, faisant au moins une douzaine de morts et de nombreux blessés, selon les dernières informations rapportées par la presse. Ces tensions post-électorales se sont matérialisées par des mouvements de populations, avec des Ivoiriens fuyant vers les pays voisins « par crainte de violences ».
A la date du mardi 2 novembre, plus de 3.200 Ivoiriens se sont réfugiés dans les pays voisins. « Ces nouveaux arrivants sont parfois des réfugiés qui avaient été rapatriés récemment et qui ont été forcés de fuir à nouveau », a souligné M. Cheshirkov.
Pour le seule journée du 2 novembre, 1.000 Ivoiriens ont fui au Libéria
Nombreux sont ceux qui disent craindre d'être pris au piège par la montée de la violence. Le plus grand nombre – 2.600 – a cherché refuge au Libéria. Pour la seule journée de mardi, 1.000 personnes ont traversé la frontière commune avec le voisin anglophone de l'ouest.
Quelques 600 autres réfugiés ivoiriens sont également arrivés au Ghana à l'est. Plus de la moitié sont originaires de Niable, une ville ivoirienne située à moins de cinq kilomètres de la frontière ghanéenne. La majorité de ceux qui ont choisi de rester au Ghana vivent actuellement dans le camp de réfugiés d'Ampain, situé à près de 60 kilomètres de la frontière.
Les Ivoiriens qui se sont exilés au Ghana ont exprimé leur intention de rester près de la frontière pour pouvoir rentrer rapidement une fois la violence retombée. « Le lundi 2 novembre, 289 Ivoiriens ont choisi de retourner à Niable après avoir appris par leur famille que le calme était revenu », a précisé M. Cheshirkov.
La Commission électorale indépendante (CEI) a annoncé la réélection d'Alassane Ouattara, 78 ans, pour un troisième mandat avec un score de 94,27% des voix au premier tour. La CEI dispose trois jours pour transmettre ces résultats au Conseil constitutionnel, qui a sept jours pour les valider.
Lundi soir, l'opposition, qui dit ne pas reconnaitre « la validité de l'élection présidentielle », a annoncé qu'elle avait créé un « Conseil national de transition présidé par l'ancien président Henri Konan Bédié « dans le but de former un « gouvernement de transition ».
3.000 morts, 300.000 réfugiés et plus d'un million de déplacés après la crise de 2010
Face à ces tensions post-électorales, certaines organisations humanitaires redoutent un nouvel afflux de réfugiés ivoiriens, comme cela a été le cas il y a dix ans. A la fin du mois de novembre 2010, des violences post-électorales avaient éclaté en Côte d'Ivoire. Les combats avaient provoqué un déplacement massif de population.

« L'élection a déclenché une vague de violences telles que le pays n'en avait plus connue depuis 2011, lorsqu'une autre élection présidentielle contestée avait coûté la vie à plus de 3.000 Ivoiriens, en avait forcé plus de 300.000 à fuir vers 13 pays d'Afrique de l'Ouest et en avait déplacé plus d'un million à l'intérieur du pays », a rappelé M. Cheshirkov.
Pour éviter de revivre un tel scénario humanitaire, le HCR appelle les dirigeants politiques et les leaders d'opinion ivoiriens à « s'abstenir d'inciter à la violence » et à ne pas recourir à des discours haineux. Pour l'agence onusienne, tout différend doit se résoudre « de manière pacifique et par le dialogue ».
En attendant, les travailleurs humanitaires onusiens sont mobilisés sur le terrain. Le HCR travaille avec les autorités du Libéria pour enregistrer les réfugiés et leur donner de la nourriture. Selon l'agence onusienne, les communautés locales ont pris en charge leur accueil, partageant avec ces nouveaux arrivants leurs maigres ressources. Le HCR a également déployé du personnel supplémentaire pour renforcer l'aide et les activités de suivi et a remercié les gouvernements du Libéria, du Ghana et du Togo d'avoir maintenu leurs frontières ouvertes aux réfugiés ivoiriens malgré les restrictions liées à la pandémie de Covid-19, en cas de nouvel afflux.
Le HCR continue de travailler en étroite collaboration avec les gouvernements et les autres partenaires de la région « sur des plans d'urgence au cas où les mouvements de réfugiés en provenance de la Côte d'Ivoire devaient s'accélérer ».
Distribué par African Media Agency (AMA) pour ONU Info.
The post Côte d'Ivoire : plus de 3.200 réfugiés dans les pays voisins par crainte des violences post-électorales (HCR) appeared first on African Media Agency.
Kerry Expands in East Africa to bring local, sustainable nutrition to Africa
Nairobi Development and Application Centre opens to support customers in East Africa and the development of sustainable food processing for the continent
NAIROBI, Kenya, 26 May 2022, /African Media Agency/-Kerry, the world's leading taste and nutrition company, is expanding operations in East Africa to bring local, sustainably produced food and taste solutions to the continent as we launch our Future Food Africa commitment. Through significant investments in people and infrastructure across the continent, Kerry has a solid footprint in East Africa and beyond to support local and multinational food processors. With a rising population to feed, supply chain disruptions, over-reliance on importation, and more demanding consumers, Africa needs local food solutions.
Roundtable on accelerating growth of the food processing sector in a sustainable and profitable way
At a business forum in Nairobi organized by the Business Ireland Kenya, Kerry Group CEO Edmond Scanlon joined key stakeholders in the food processing industry including logistics providers, manufacturing, financing groups, NGOs and academia from local universities to discuss how to accelerate the growth of the food processing sector in a sustainable and profitable manner. Scanlon called on the food processing stakeholders to listen to local consumers and develop high nutritional content food and beverage products at an affordable price. 
The lively event was attended by the Irish Ambassador to Kenya, Her Excellency Fionnuala Quinlan who encouraged investors to work together to make the sector more profitable which will in turn spur economic growth in the region. Other speakers included the Kenya Association of Manufacturers (KAM) chair Muchai Kunyiha who called on the government to incentivize the sector to make it more sustainable and profitable.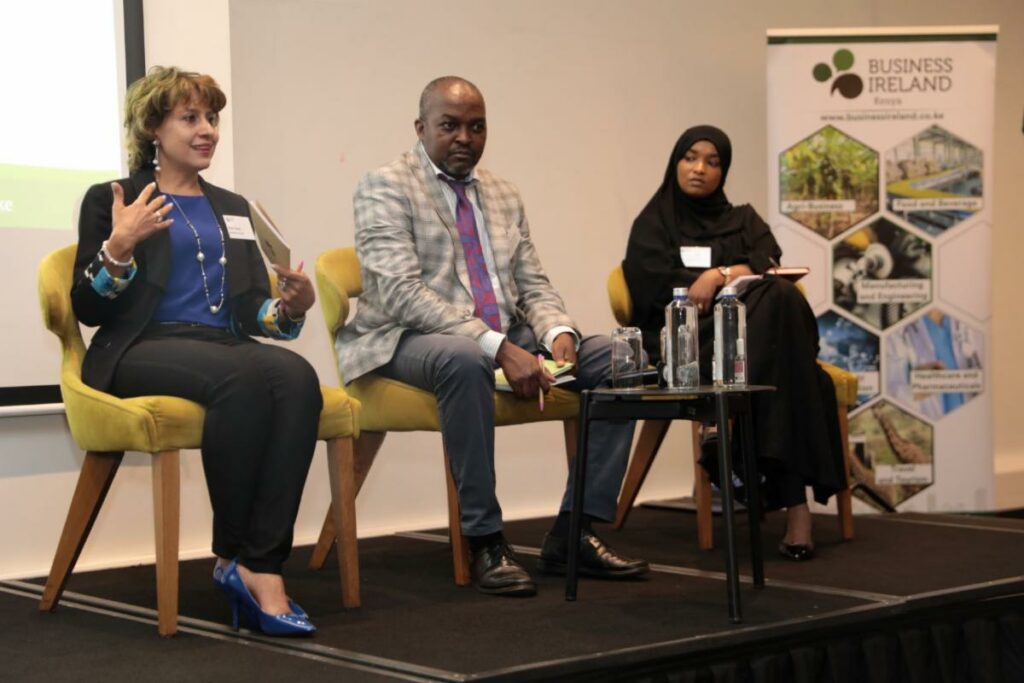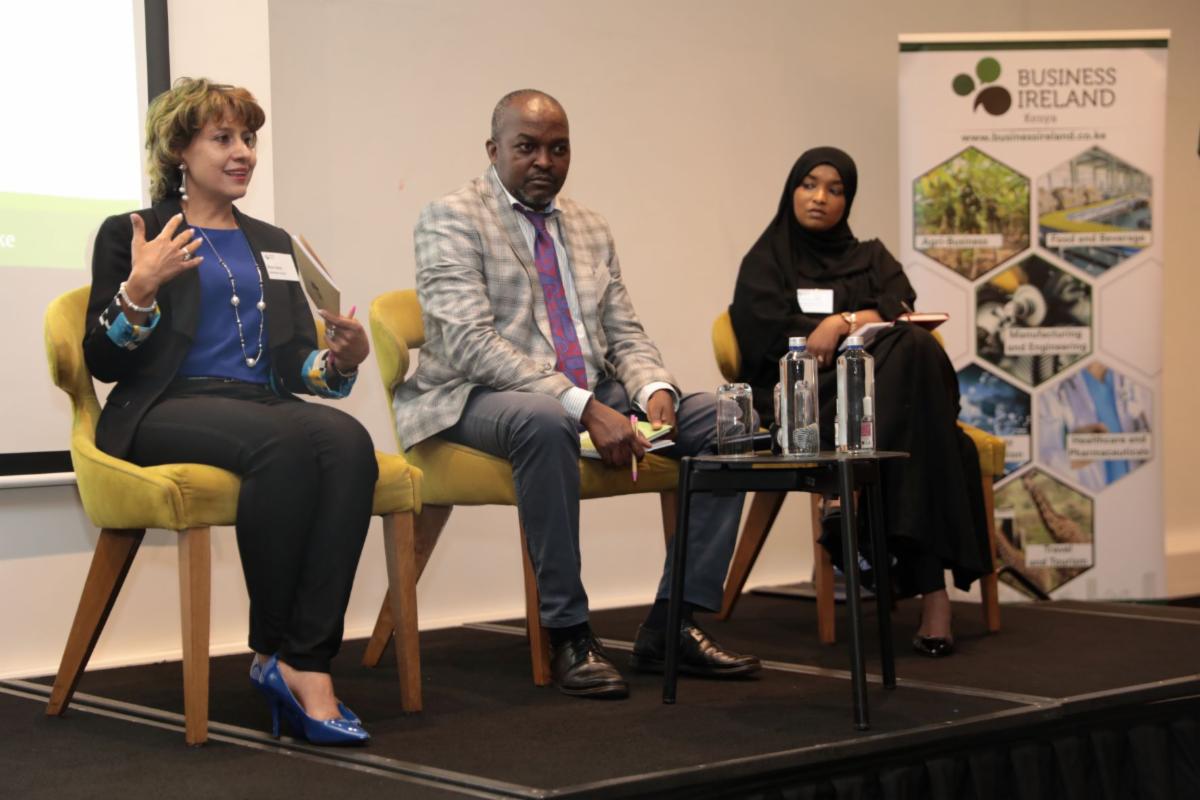 Kerry Kenya Application & Development Centre opening
At the opening of the Kerry Kenya Application & Development Centre opening, customers were treated to a full menu of innovative food and beverage concepts inspired by Kenyan culinary tradition, a vibrant style with elements of coastal and distinctly East African ingredients and flavours. In the high-tech labs, customers sampled a convincing plant-based buffet, as well as innovative snack and beverage offerings with East Africa flavours reimagined in innovative ways by Kerry food scientists. The local Centre will further support co-creation with customers and the development of sustainable food processing for Africa.
"For 50 years, Kerry has focused on meeting local consumer needs grounded in great taste – one of the most important criteria in any food or beverage. Our suite of world-leading technologies combined with our expertise ensures that we can continue to work with our customers to produce great tasting, nutritious products that are respectful of our planet," said Peter Dillane, Kerry VP for Middle East, Indian Subcontinent and Africa.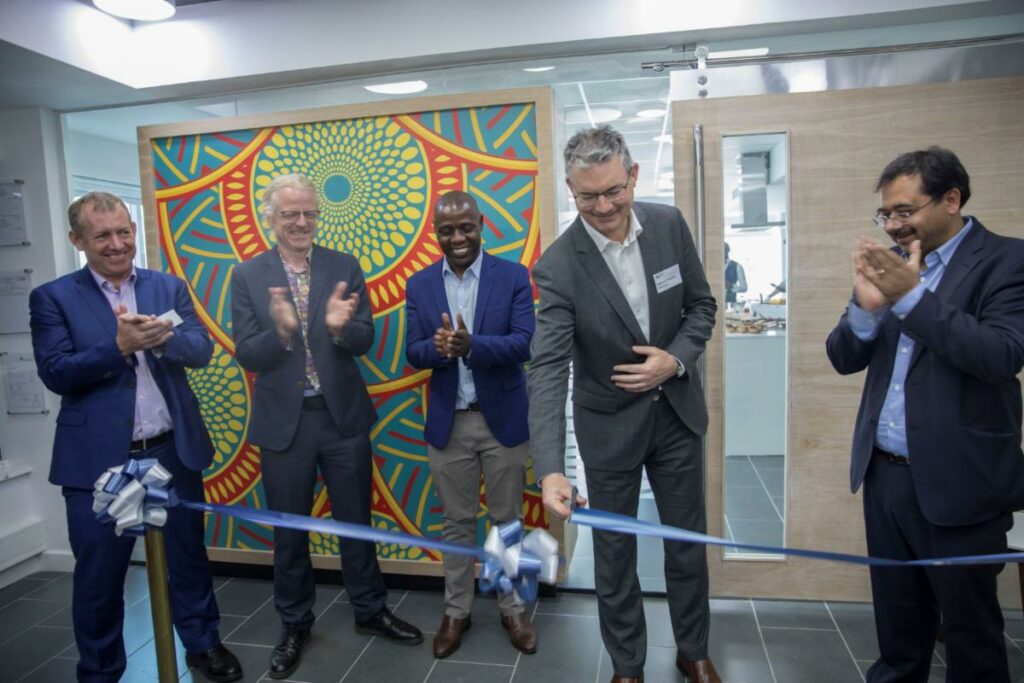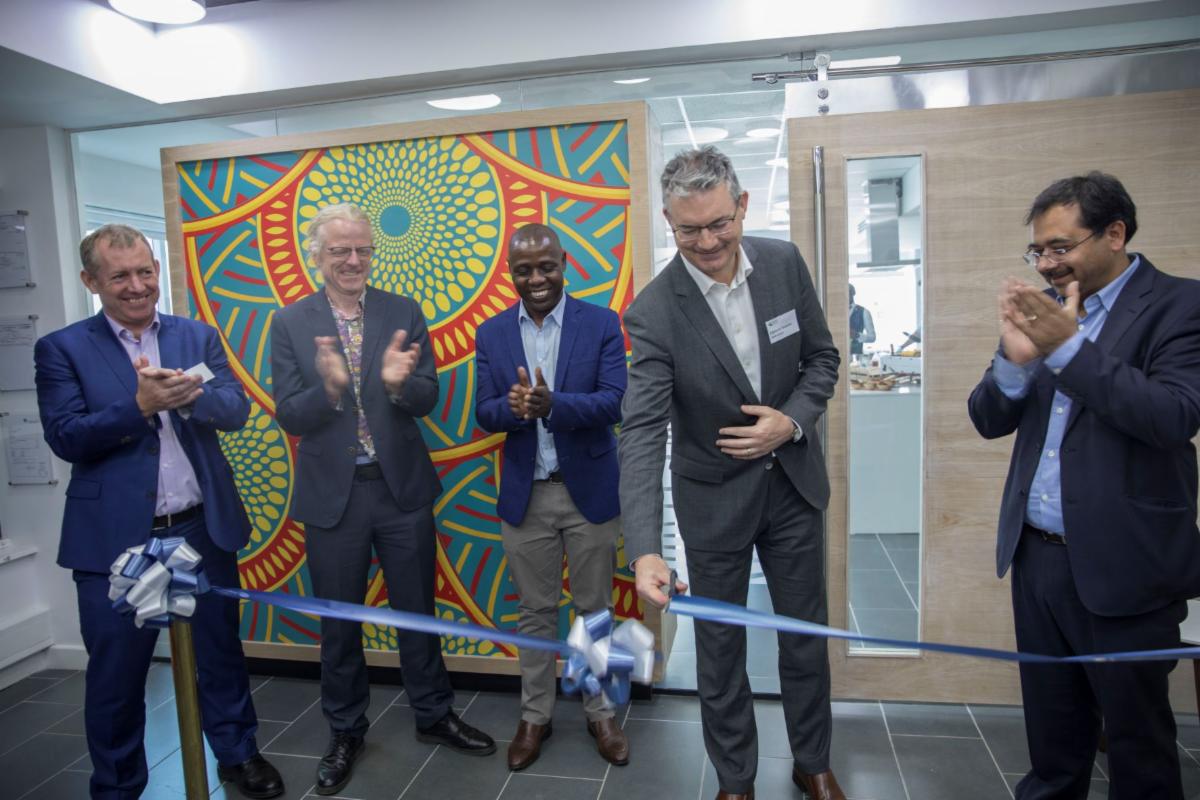 Future Food Africa Commitment
Kerry's Future Food Africa commitment recognizes the challenges facing the continent, and that as African producers we need African solutions to deliver sustainable, healthy nutrition solutions. It is innovation through dynamic technologies that will shape the future of food culture. It is an authentic understanding and celebration of our African food traditions, reinvented for the present. We believe in inspiring food and nourishing life through transformation of our locally grown ingredients. Kerry's Future Food Africa commitment focuses on reducing food waste, delivering authentic local taste, nutrition solutions, plant-based options and localization.
Earlier this month, Kerry opened the largest and most advanced taste manufacturing facility in Africa located in KwaZulu-Natal, South Africa. The €38 million facility will produce sustainable nutrition solutions that will be consumed across the continent. In December 2021, Kerry expanded its operations in Africa with the acquisition of local taste solutions manufacturer, Afribon. Afribon produces food flavors for the Beverage, Confectionary, Bakery and Dairy markets in Kenya, Uganda, Tanzania, Rwanda and Cameroon.
With Kerry's innovation expertise, solutions portfolio and sustainability commitments, Kerry ultimately aims to decrease the environmental and social impacts of the food industry value chain so that consumers everywhere can make better, healthier choices and leave a better world for future generations.
Distributed by African Media Agency on behalf of Kerry Group.
About Kerry Group
Kerry is the world's leading taste and nutrition partner for the food, beverage and pharmaceutical markets. We innovate with our customers to create great tasting products with improved nutrition and functionality, while ensuring better impact for the planet. Our leading consumer insights, global RD&A team of 1,100+ food scientists and extensive global footprint enable us to solve our customers' complex challenges with differentiated solutions. At Kerry, we are driven to be our customers' most valued partner, creating a world of sustainable nutrition, and will reach over two billion consumers with sustainable nutrition solutions by 2030. For more information, visit http://www.kerrygroup.com
Media contacts:
Laura De Kreij : laura.dekreij@kerry.com
Pauline Muita: pauline.muita@kerry.com
The post Kerry Expands in East Africa to bring local, sustainable nutrition to Africa appeared first on African Media Agency.