Journée Mondiale des Toilettes 2022 : L'assainissement au Burkina, la nécessité d'agir hic et nunc!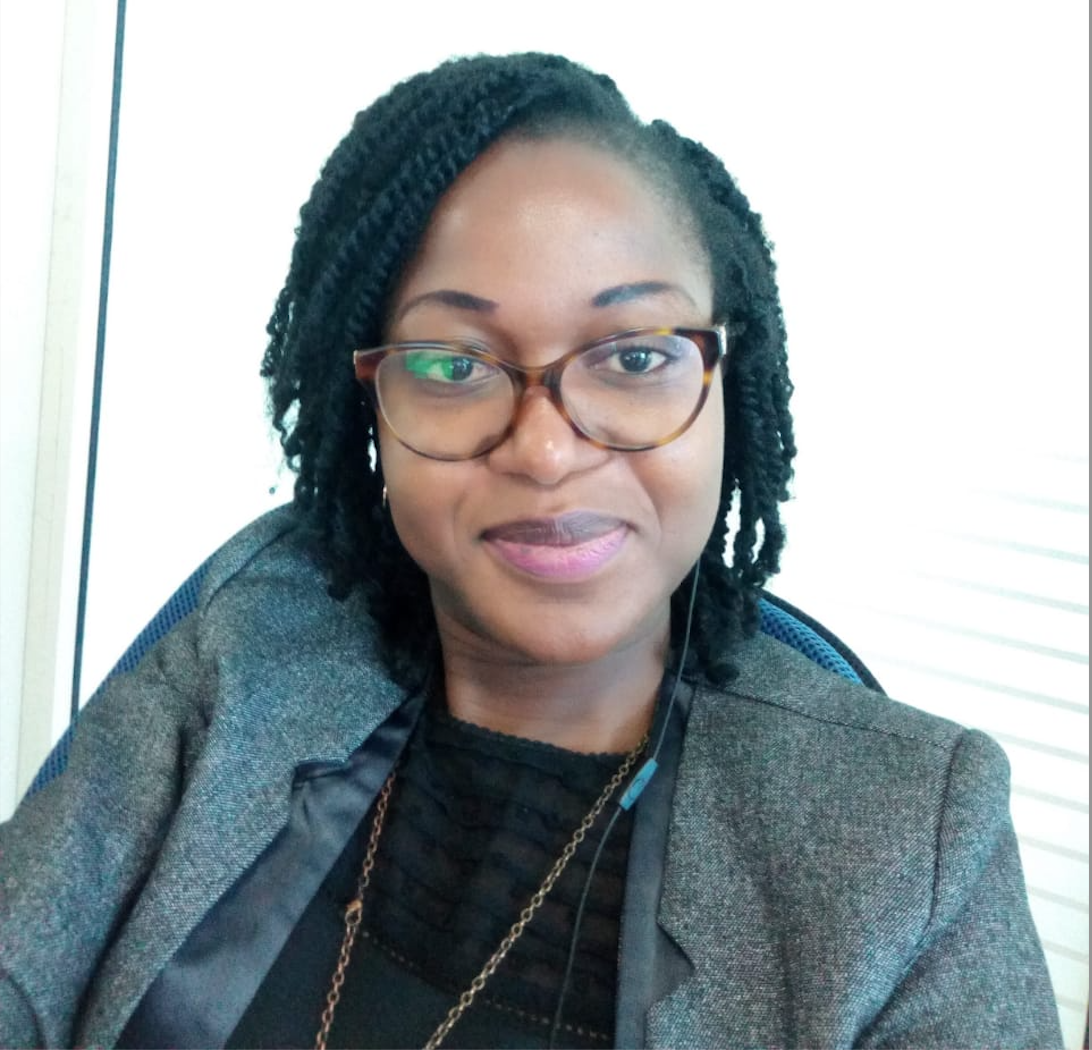 OUAGADOUGOU, Burkina Faso, le 23 Novembre 2022 -/African Media Agency (AMA)/- En Afrique, une personne sur deux n'a toujours pas accès à un assainissement sûr et géré en toute sécurité. Chaque jour, plus de 800 enfants de moins de 5 ans dans le monde meurent de diarrhées dues à de l'eau insalubre, des services sanitaires insuffisants et une mauvaise hygiène, indique un rapport de l'Organisation Mondiale de la Santé/UNICEF sur les Progrès en matière d'eau, d'assainissement et d'hygiène des ménages. Pourtant le droit à l'accès à l'eau et à l'assainissement est un droit humain primordial pour assurer une vie digne et libre à chacun.
Dans la perspective de l'atteinte des Objectifs de Développement Durable (ODD) dont l'échéance est pour 2030, ces chiffres ne sont guère rassurants ! Les experts s'accordent à dire que nous vivons une crise mondiale de l'assainissement. Les femmes et les filles en sont sans nul doute les premières victimes quand on sait le lien particulier existant entre le genre féminin et l'assainissement. En effet, ce sont elles qui portent traditionnellement la responsabilité de la gestion de l'hygiène et de l'assainissement du foyer. De même, du fait de leurs besoins spécifiques en termes de santé sexuelle et reproductive, elles sont davantage sensibles aux conditions d'accès à l'hygiène et l'assainissement.
L'ODD 6.2, faut-il le rappeler, vise l'accès de tous, dans des conditions équitables, à des services d'assainissement et d'hygiène adéquats et la fin de la défécation en plein air, en accordant une attention particulière aux besoins des femmes et des filles et des personnes en situation vulnérable en 2030. Qu'est-ce qui cloche donc ? Avons-nous été trop ambitieux ? Avons-nous raté un tournant? Y arriverons-nous ? Surtout dans un pays tel que le Burkina Faso.
Si ces questions sont d'actualité au niveau mondial, elles le sont encore plus dans ce pays, qui par ailleurs traverse une crise sécuritaire extrêmement éprouvante avec à la clé plus d'un million et demi de déplacés internes.
Le dernier rapport du Programme National D'assainissement des Eaux Usées et Excrétas (PN-AEUE) paru en Mars 2022 faisait état d'un taux d'accès national à l'assainissement de 26.8 % soit 5 780 090 personnes desservies sur une population totale estimée à 21 541 506. Ainsi, au Burkina Faso, seulement une personne sur quatre a accès à des toilettes et la situation est d'autant plus préoccupante avec 1 719 332 déplacés internes à la date du 30 septembre 2022 (UNOCHA, 2022): Une crise donc dans la crise !
L'analyse de l'évolution du taux national d'accès à l'assainissement entre 2010 et 2015 (année marquant le lancement de l'agenda 2030 des ODD) et entre 2015 et 2022 montre que des progrès sont bel et bien enregistrés. Cependant le rythme de progression reste statique. Une simple analyse juxtaposée des rapports annuels présentant les taux de chaque année depuis 2010 permet de situer en moyenne la progression du taux d'accès dans l'intervalle de 1 à 2 points. C'est à croire que le lancement des ODD et du PN-AEUE n'a pas encore suscité d'accélération notoire. Les années se succèdent mais les bilans se ressemblent. Et là, il n'est juste question que de l'accès aux toilettes !!! Les autres maillons qui composent la chaîne de valeur de l'assainissement tardent à se déployer réellement dans nos villes et communes malgré la synergie d'actions entre les parties prenantes qui s'est opérée depuis ces dernières années dont d'ailleurs les acquis mériteraient d'être préservés.
De nombreux textes ont été élaborés et adoptés, au point où le Burkina Faso est plébiscité à l'international pour la richesse de son cadre réglementaire, stratégique et législatif relatif au secteur Eau et Assainissement en général. Des efforts sont enregistrés en matière de collaboration notamment avec les acteurs de la vidange en ce qui concerne la question des boues de vidange. Les acteurs échangent, collaborent sur la finalisation des documents stratégiques et sur la résolution de problèmes rencontrés sur le terrain. Un engagement des autorités est également constaté grâce à un positionnement progressif sur les questions d'assainissement. Ce sont là des avancées significatives qu'il convient de préserver. Cependant l'arbre ne doit pas cacher la forêt, car à l'heure des bilans de mise en œuvre des textes, stratégies, politiques et autres, force est de constater que d'énormes efforts sont encore à fournir.
Le contexte actuel du Burkina rend davantage difficile la prise en charge efficiente de la question et l'assainissement tend progressivement et implicitement à être ramené à son rang de « cadet des priorités » et à demeurer le « parent pauvre » des politiques publiques. Selon le rapport de la Coalition Eau (mai 2021), les allocations budgétaires ont connu une forte baisse de 50,42% entre 2014 et 2019. Pourtant des efforts ont été consentis par l'ensemble des acteurs, notamment les coalitions de mouvements citoyens, la société civile et ce pour en faire un Droit fondamental consacré par la constitution du pays en 2015.
Il importe d'agir et urgemment !
Certes le Burkina Faso traverse l'un des tournants les plus difficiles de son histoire. Loin de nous, la prétention de présenter l'Assainissement comme la priorité des priorités dans le contexte actuel du pays ! Mais il est de notre devoir de tirer la sonnette d'alarme pour éviter de perdre les quelques progrès chèrement engrangés dans le sous-secteur durant ces dernières années. Sans compter que les défis restent encore colossaux pour mettre en place de façon durable et inclusive l'ensemble de la chaîne de valeur de l'assainissement.
Dans les ménages, les écoles, les hôpitaux, les bâtiments administratifs, les camps de réfugiés ou de déplacés internes, en milieu rural, en milieu urbain, etc. la question de l'accès à un assainissement sûr et bien géré se pose sans conteste et ce au quotidien.
Si aujourd'hui on s'accorde à dire qu'il y a un réel besoin de changer de rythme dans la gestion et la mise en œuvre des politiques et stratégies de développement dans notre pays, il y a bien longtemps que ce changement de rythme est réclamé dans le secteur WASH en général et dans le sous-secteur de l'Assainissement en particulier.
L'accès à l'assainissement peut assurément contribuer au développement de la résilience tant recherchée pour les populations de notre pays, car la dignité reste le premier élément de ce développement. Les avantages d'un accès adéquat à l'assainissement ne sont plus à argumenter :
Selon le rapport de l'UNICEF (2021) sur la situation de l'assainissement dans le monde, l'accès à un assainissement décent réduit les coûts de santé et préserve surtout la vie des moins de 5 ans.
Selon le rapport du programme Eau et Assainissement/Banque mondiale (mars 2012), le Burkina Faso perd 86 milliards de FCFA chaque année à cause d'un mauvais assainissement
Toujours selon le même rapport, chaque personne pratiquant la défécation en plein air passe presque 2,5 jours par an à trouver un endroit isolé pour déféquer, ce qui conduit à de grandes pertes économiques
Selon le rapport mondial des Nations Unies sur la mise en valeur des ressources en eau paru en 2019 (ne laisser personne pour compte), l'accès aux services d'eau potable et d'assainissement génère des retombées sociales et économiques avantageuses, avec un ratio coût-avantage moyen mondial de 5,5 pour l'assainissement.
Pour le milieu scolaire, déjà en 2004, une étude de l'OMS portant sur l'évaluation des coûts et des avantages liés à l'amélioration de l'accès à l'eau et à l'assainissement au niveau mondial, estimait que 1,9 milliards de jours d'école pourraient être gagnés si les Objectifs du Millénaire pour le Développement relatifs à l'eau potable et l'assainissement étaient atteints.
Autant de faits démontrés et avérés qui devraient nous pousser à l'action.
Que faire alors ?
Les enjeux actuels sont entre autres :
La prise en charge effective et inclusive (prise en compte du genre) des questions d'assainissement sur les sites des déplacés internes
Le maintien d'un minimum de priorisation du sous-secteur au niveau de l'Etat malgré la crise actuelle
L'implication et le développement de la synergie entre tous les acteurs pour la mise en œuvre effective des politiques en prenant en compte l'aspect transversal du sous-secteur
La structuration/la marketisation de l'assainissement et l'amélioration de l'attractivité du sous-secteur pour des investissements privés
La réalisation d'infrastructures durables et surtout fonctionnels notamment pour le traitement des boues de vidange et ouvrant la voie à une valorisation des sous-produits de l'assainissement
Le droit à l'assainissement implique des questions de dignité. Agissons et vite !
Co-écrit par:
Christian Mampuya, Directeur Pays de l'Association Kynarou France au Burkina
Yasmina Zongo, Chargée de plaidoyer senior à Niyel
Distribué par African Media Agency pour Niyel.
Contact Média
Letissia Konan
letissia@africanmediaagency.com
The post Journée Mondiale des Toilettes 2022 : L'assainissement au Burkina, la nécessité d'agir hic et nunc! appeared first on African Media Agency.
WaterAid scales up WASH facilities for disease prevention at Uganda/Congo border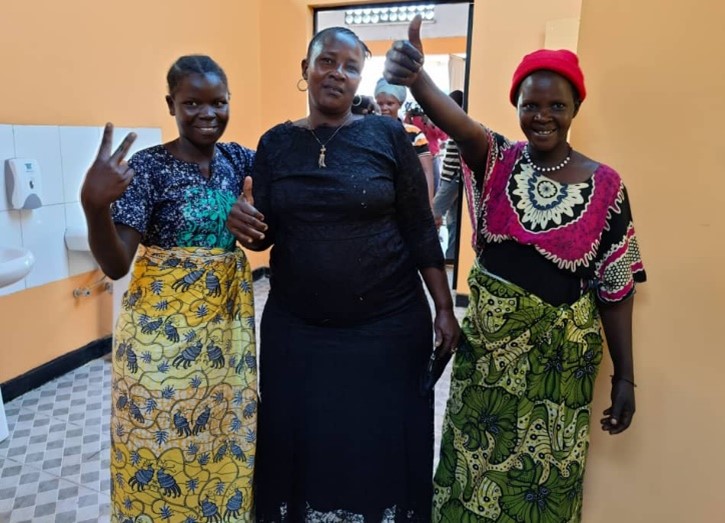 KAMPALA, Uganda, 25 November 2022 -/African Media Agency(AMA)/- WaterAid East Africa and implementing partner, Uganda Water and Sanitation Network (UWASNET), handed over a new gender-inclusive and disability-friendly sanitation block to the management of the border post and Vurra community. The sanitation block, which is being handed over few days after the commemoration of World Toilet Day, consists of four toilets each for men and women, including special suites for persons with disabilities, three urinal bowls for men, six bathrooms and a store.
Vurra border post is a key goods-clearing and immigration checkpoint for Uganda and Democratic Republic of Congo, and due to high rate of border movements and inadequate WASH facilities, the post potentially exposes people to the risk of communicable diseases. Before the COVID-19 pandemic, about 500 trucks crossed the border post daily with commuters overstretching the toilet facilities in the guest houses and restaurants.
This new intervention by WaterAid East Africa, forms part of the second phase the organisation's cross-border WASH projects, aimed at helping countries improve pandemic preparedness after the disruption by COVID-19. The first phase of the border intervention was successfully delivered in 2021.
During the first phase, WaterAid worked with UWASNET to install six contactless handwashing facilities at Vurra border. Speaking on the second phase and introduction of sanitation facilities, Regional Director for WaterAid East Africa, Olutayo Bankole-Bolawole said it was borne out of the need to have a more integrated approach in curbing the spread of communicable diseases.
"With COVID-19 and now Ebola Virus Disease, it is clear that the risk of emergence of infectious diseases has increased over the past few years, and this can be traced to high mobility of people that is witnessed at border points. After the completion of the first phase of WaterAid's response, we conducted an assessment and concluded based on impact of the first phase, to have a more holistic approach, which requires providing access to integrated WASH facilities and hygiene behaviour change trainings".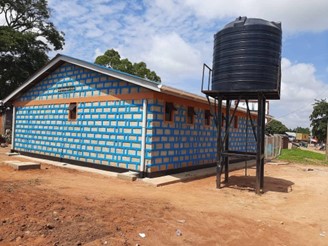 "Inadequate sanitation systems spread human waste into rivers, lakes and soil and this pollutes water resources and impacts people's health. Poor sanitation is also linked to diarrheal diseases which results in the death of about 800 children globally, every day. Ensuring that toilets are climate-resilient and connected to a proper sanitation system that effectively removes and treats human waste is key in promoting good health and protecting the environment".
Olutayo added that "Border points are very significant in boosting the economy of countries, but without these basic WASH services, it becomes very difficult for people to protect themselves and contribute to a prosperous economy. Research shows that handwashing with soap reduces diarrheal diseases by 30%, can reduce acute respiratory infections by up to 20% and it plays an important role in reducing the transmission of outbreak-related pathogens such as cholera, Ebola, shigellosis, SARS, hepatitis E, and COVID-19. Investment in WASH is worth it and we encourage governments across the region to prioritise investing more in WASH to ensure preventive measures against diseases, rather than seeking for curative measures when people's lives are in danger". 
In line with its global and regional strategy, WaterAid aims to inspire and accelerate action to tackle the global sanitation crisis and achieve Sustainable Development Goal (SDG) 6, which promises access to sanitation and water for all by 2030.
Since 2021, WaterAid East Africa has been working closely with partners, including WASH networks in Kenya, Tanzania and Uganda country programmes, to curb the spread of infectious diseases along cross-country border routes in East Africa. So far, the organisation has embarked on 9 border interventions covering six countries- Kenya, Uganda, Burundi, Rwanda, Democratic Republic of Congo and Tanzania. These include Busia border between Kenya and Uganda; Holili border between Tanzania and Kenya; Malaba border between Kenya and Uganda; Nemba border between Rwanda and Burundi; Horohoro border which serves Tanzania and Kenya; Lungalunga border serving Kenya and Tanzania; and Rusizi border between Rwanda and DRC
Yunia Musaazi, Executive Director of UWASNET appreciated WaterAid for the initiative.
"UWASNET is grateful to WaterAid for having partnered with us to contribute to the fight against pandemics in the world like COVID-19 and Ebola. We are also grateful to WaterAid for having listened to the voices of Vurra and Arua districts who called for the effective curbing of communicable WASH-related diseases by offering a full WASH package for transient communities." 
Prior to WaterAid's intervention, the poor conditions of the toilets contributed to an increase in open defecation.
"In the past, we've experienced health problems due to the poor sanitation we've had. Now we have beautiful toilets, with urinals, we can use the toilets and the bathrooms. We welcome these facilities with open arms," said Taban Joseph, the Operations Manager for Cargo Trans and a leader in the long-distance drivers community.
Distributed by African Media Agency on behalf of Water Aid.
For more information, please contact:
Bukola Bayo-Philip, Ag. Regional Communications Manager, WaterAid East Africa on bukolaphilip@wateraid.org.
For more information, please contact:
Bukola Bayo-Philip, Ag. Regional Communications Manager, WaterAid East Africa on bukolaphilip@wateraid.org.
WHO/UNICEF Joint Monitoring Programme (JMP) Progress on drinking water, sanitation and hygiene: 2017 update and SDG Baselines
WHO/UNICEF Joint Monitoring Programme (JMP) Progress on drinking water, sanitation and hygiene: 2017 update and SDG Baselines
Prüss-Ustün et al. (2014) and The Institute for Health Metrics and Evaluation (2018)
World Health organization (2012) Global costs and benefits of drinking-water supply and sanitation interventions to reach the MDG target and universal coverage
The post WaterAid scales up WASH facilities for disease prevention at Uganda/Congo border appeared first on African Media Agency.